CIMMYT and ICAR Wheat scientists visit at RDC Bajo
On 10th April, three wheat scientists, Dr. Arun Joshi from CIMMYT-Nepal, Dr. Girish Mishra from Banaras Hindu University, Varanasi and Dr. Ravish Chatrath from the Indian Institute of Wheat and Barley Research, Karnal under ICAR visited RDC, Bajo. The main purpose of their visit was to assess the ongoing collaborative wheat research activities, monitor the rust situation and explore the areas of future collaboration in wheat R & D.  Such field visit during the wheat season from the international and regional wheat centers have been an annual event since 2011. The field crops researchers also participated during the visit for the discussion and interaction with the visiting team.
Mr. Sangay Tshewang, a wheat researcher and coordinator, briefed the visitors on the on-going research and developmental activities at RDC Bajo, other RDCs and sub centers. The main highlights of research activities happening at RDC Bajo were the evaluation of facultative lines, bio-fortified trial and disease screening of SAARC and Bangladesh lines. The seed multiplication of recently released cultivar and potential lines was also briefed.
The visitors acknowledged the progress of wheat in Bhutan as demonstrated by the release of new varieties in recent years; and the on-going varietal trials. The screening of advanced Bangladesh lines for Yellow Rust resistance clearly indicated Bhutan's commitment to regional collaboration and its crucial role in global war against diseases as a whole.
Dr. Arun Joshi, assured his continued support on behalf of CIMMYT, as tangible outputs are in field or in pipeline. The possible supports in this season are the seed supply of 1000 kgs of Bumthang Kaa Drukchu for faster
dissemination; and fielding of Dr. Girish Mishra, a Biometrician to train the national researchers on statistics. The other capacity building opportunities will also be provided on need basis.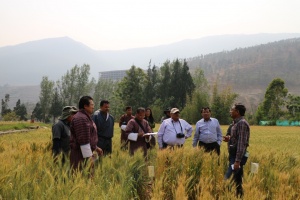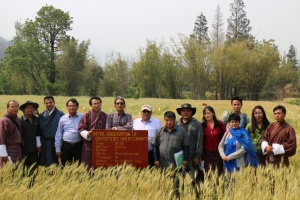 By RDC Bajo